McDonald's Franchise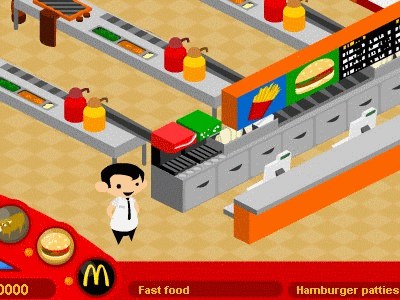 Making money in a corporation like McDonald's is not simple at all! Behind every sandwich there is a complex process you must learn to manage: from the creation of pastures to the slaughter, from the restaurant management to the branding.
Instructions/Controls:
You will need at least 1 cow pasture and 1 sow pasture, 1 line cook and 1 cashier to get started. Marketing programs can increase demand, but if you overwork your employees you will have to reward or fire them. You will also have to deal with environment and globalism concerns, all while watching the bottom line.
Plays:
131,704
|
Ratings:
11
|
Avg Rating:
6.2
|
Published on
7/30/2006

Honors for this game (1)
Featured Game: 4/28/2008 00:00:00

Game Reviews
Rants, Raves and Reviews
No reviews have been submitted.
Game Strategy
Tips, hints, secrets, cheats & walkthroughs
No strategies have been submitted.
Related Games
If you liked this game, you might also like: