Lemonade Stand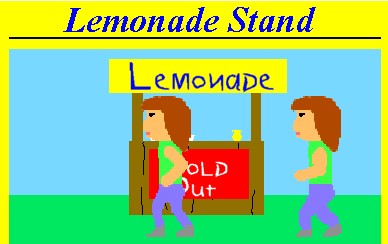 Run your own lemonade stand, and see how much lemonade you can sell each day.
Instructions/Controls:
Hi, and welcome to Lemonade Stand! Your goal in this game will be to make as much money as you can within 30 days. To do this, you've decided to open your own business -- a Lemonade Stand! You'll have complete control over almost every part of your bus
Plays:
48,092
|
Ratings:
16
|
Avg Rating:
5.7
|
Published on
7/30/2006

Honors for this game (1)
Most Popular (Today): #20

Game Reviews
Rants, Raves and Reviews
No reviews have been submitted.
Game Strategy
Tips, hints, secrets, cheats & walkthroughs
No strategies have been submitted.
Related Games
If you liked this game, you might also like: