Wrath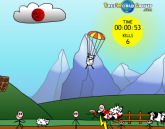 Bestow the wrath of God on the pitiful creatures of the Earth. Need more excitement?
Instructions/Controls:
Mouse point and click.
Plays:
5,288
|
Ratings:
2
|
Avg Rating:
6.0
|
Published on
7/25/2006


This game has not earned any honors.
Game Reviews
Rants, Raves and Reviews
No reviews have been submitted.
Game Strategy
Tips, hints, secrets, cheats & walkthroughs
No strategies have been submitted.
Related Games
If you liked this game, you might also like: