Uniwar the Lost Civilization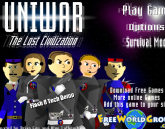 A shoot'em up space fighter game. While in the game, you will have many things to work with such as your shields, your hull, your ship laser, and of course ....enemies :-)
Instructions/Controls:
Mouse and left mouse button to aim and shoot respectively.

Holding the left mouse button down for a while charges up your laser gun so it can wipe out more enemy ships.

Press the ~ key (top left of keyboard) to activate a menu console in the game.
The size of this game is large (2.3 mb). Please be patient while it loads!
Plays:
102,786
|
Ratings:
2
|
Avg Rating:
7.7
|
Published on
7/25/2006


This game has not earned any honors.
Game Reviews
Rants, Raves and Reviews
No reviews have been submitted.
Game Strategy
Tips, hints, secrets, cheats & walkthroughs
No strategies have been submitted.
Related Games
If you liked this game, you might also like: