Table Tennis 2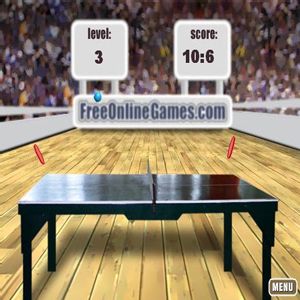 Play an improved and more challenging online version of Table Tennis and snatch victory from your opponent!
This is a nice and challenging online version of Table Tennis game where you've to play against your computer and try to win all the levels. You need some sporting skills and quick reflexes to defeat your opponent.
Smash the ball with your racket, if your opponent fails to hit back then you'll gain a point. Try to score 11 points before your opponent does, to win the level.
Instructions/Controls:
Move your racket by moving your Mouse and hit the ball. The more you swing the bat, the stronger the shot will be. Good luck...
Plays:
18,941
|
Ratings:
3
|
Avg Rating:
5.2
|
Published on
5/20/2007


This game has not earned any honors.
Game Reviews
Rants, Raves and Reviews
No reviews have been submitted.
Game Strategy
Tips, hints, secrets, cheats & walkthroughs
No strategies have been submitted.
Related Games
If you liked this game, you might also like: