Super Energy Apocalypse 2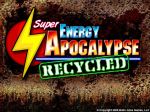 Super Energy Apocalypse is BACK and better than ever! The world is in ruins. Rebuild your base with sustainable energy choices, then survive the hordes of mutant alien zombies. Be careful - you need energy to survive, but pollution will make the zombies stronger!
This game was produced in partnership with Houston Advanced Research Center, based on real-world research data about energy use and power plants.
In addition to bugfixes, tweaks, and general performance upgrades, this all new version includes:
1) All-new story!
2) 9 All-new levels!
3) 3 difficulty modes!
4) High Scores!
5) New Building : Recycling Center!
6) New Weapon : Flame Turrets!
7) Two new enemy types!
Instructions/Controls:
Use the mouse to navigate the interface. The tutorial is included in the Campaign Mode. Units and buildings can be built using hotkeys explained in game. Many variables in Sandbox Mode are customizable, including the number of beginning resources and the zombie spawn rate.
The size of this game is very large (6.5 mb). Please be patient while it loads!
Plays:
15,747
|
Ratings:
9
|
Avg Rating:
7.5
|
Published on
3/5/2009

Honors for this game (1)
Most Popular (Today): #43

Game Reviews
Rants, Raves and Reviews
No reviews have been submitted.
Game Strategy
Tips, hints, secrets, cheats & walkthroughs
No strategies have been submitted.
Related Games
If you liked this game, you might also like: