Slider Mania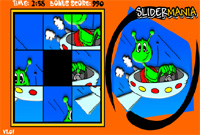 A sliding puzzle box game. Slide the puzzle pieces around until you complete the picture. See how fast you can complete the puzzle. Hope you can do it before time runs out.
Instructions/Controls:
Click the puzzle piece you want to move and it will move into the open slot.
Plays:
4,369
|
Ratings:
2
|
Avg Rating:
3.7
|
Published on
6/25/2008


This game has not earned any honors.
Game Reviews
Rants, Raves and Reviews
No reviews have been submitted.
Game Strategy
Tips, hints, secrets, cheats & walkthroughs
No strategies have been submitted.
Related Games
If you liked this game, you might also like: