Simcity Mini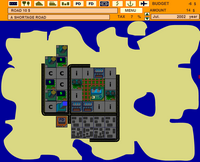 A pre-release online remake of Simcity for your browser. Simcity Mini 3.0 has lots of updates, but still many features not yet implemented. How big can you get your city using the limited tools available in this early version?
Instructions/Controls:
Mouse click
Plays:
3,823
|
Ratings:
5
|
Avg Rating:
6.4
|
Published on
4/4/2013
|
Favorited by 1 player


This game has not earned any honors.
Game Reviews
Rants, Raves and Reviews
No reviews have been submitted.
Game Strategy
Tips, hints, secrets, cheats & walkthroughs
No strategies have been submitted.
Related Games
If you liked this game, you might also like: