Rooftop Skater

Skate on the roof top of buildings. Do 360 degree spins up on ramps and bulding jumps.
Instructions/Controls:
See in game.
Game Reviews
Rants, Raves and Reviews
No reviews have been submitted.
Game Strategy
Tips, hints, secrets, cheats & walkthroughs
No strategies have been submitted.
Related Games
If you liked this game, you might also like: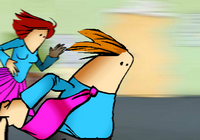 Rooftop Runner
You're late for the 10K Marathon, but you have a problem. It...