Robo Slug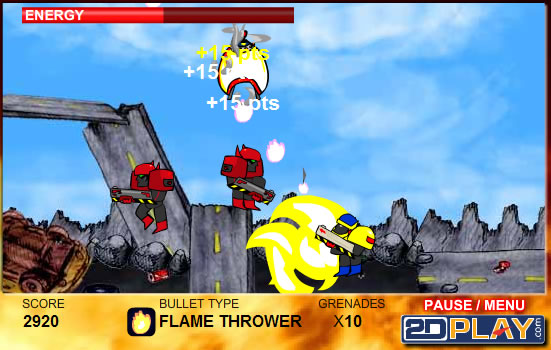 A sophisticated coup of intelligent proportions leaves the military no other choice but to summon the elusive, menace-fighting, super hero: Robo Slug. His mission is to destroy the hacked underground networking computer while taking on a very sophisticate
Instructions/Controls:
The controls can be defined by the player. The default controls are: W, A, S, D to move and direct fire. Press J to shoot, K to jump and L to launch grenades.
Plays:
6,072
|
Ratings:
0
|
Avg Rating:
5.7
|
Published on
4/22/2007


This game has not earned any honors.
Game Reviews
Rants, Raves and Reviews
No reviews have been submitted.
Game Strategy
Tips, hints, secrets, cheats & walkthroughs
No strategies have been submitted.
Related Games
If you liked this game, you might also like: