Multris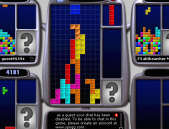 Multiplayer Tetris
Instructions/Controls:
Use the left and right arrow keys to move the falling block sideways. The up arrow key rotates the block, and the down key drops the block. If you're holding down the shift key while pressing the down arrow the block will drop but not stick to the floor,
Plays:
11,606
|
Ratings:
8
|
Avg Rating:
6.7
|
Published on
7/24/2006

Honors for this game (1)
Most Popular (Today): #66

Game Reviews
Rants, Raves and Reviews
No reviews have been submitted.
Game Strategy
Tips, hints, secrets, cheats & walkthroughs
No strategies have been submitted.