Lander X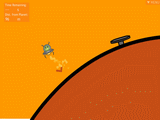 Lander X is completely addicting arcade game fun.
Instructions/Controls:
Space Key - Thrust
Left Key - Rotate ship left
Right Key - Rotate ship right

Launch and land your lander on the appropriate landing pads. Each mission will show you the objective of that mission. Be careful not to run out of fuel.

HINT: Reach
Plays:
5,821
|
Ratings:
4
|
Avg Rating:
4.7
|
Published on
7/25/2006
|
Favorited by 1 player

Honors for this game (1)
Featured Game: 10/28/2010 00:00:00

Game Reviews
Rants, Raves and Reviews
No reviews have been submitted.
Game Strategy
Tips, hints, secrets, cheats & walkthroughs
No strategies have been submitted.
Related Games
If you liked this game, you might also like: