Jewel Thief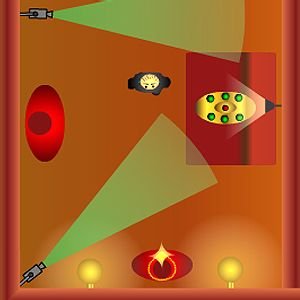 Sneak into a jewelry store and steal the precious jewels avoiding the security devices, guards and other customers around.
In this challenging skill game you're a thief and your aim is to steal the precious jewels from the jewelry stores! Do you have the courage to sneak past all the security guards and customers, avoid the security devices and get hold of the jewel?
Move around inside the store disguised as a customer and reach the jewel.
Instructions/Controls:
Use the Arrow Keys to move. Reach the jewel and pick it up by pressing the Space Bar. Then make your way safely out of the store to proceed to the next level. Good Luck Jewel Thief!!!
Plays:
7,220
|
Ratings:
5
|
Avg Rating:
4.9
|
Published on
5/20/2007

Honors for this game (1)
Most Popular (Today): #90

Game Reviews
Rants, Raves and Reviews
No reviews have been submitted.
Game Strategy
Tips, hints, secrets, cheats & walkthroughs
No strategies have been submitted.
Related Games
If you liked this game, you might also like: