Hot Death Uno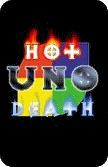 A wild and crazy Uno variant card game. Stack your draw 2s and draw 4s to make incredible combos, but watch out for the Mystery Draw played on the 69 card -- you'll have to draw 69 cards!
Instructions/Controls:
Use the mouse. Play the tournament mode to submit your score!
Game Reviews
Rants, Raves and Reviews
No reviews have been submitted.
Game Strategy
Tips, hints, secrets, cheats & walkthroughs
No strategies have been submitted.
Related Games
If you liked this game, you might also like: