Ghost Wrath #2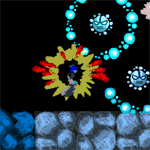 Stop the other evil soul sucking ghosts in Ghost Wrath.
Instructions/Controls:
Arrow Keys - Move
A/S Keys - Attack

Move about and take out the ghosts on your way to the goal on each level. Reach the goal to get to the next level. Pick up powerups that are dropped when you defeat certain ghosts to gain power.
Plays:
2,415
|
Ratings:
1
|
Avg Rating:
4.2
|
Published on
1/29/2009


This game has not earned any honors.
Game Reviews
Rants, Raves and Reviews
No reviews have been submitted.
Game Strategy
Tips, hints, secrets, cheats & walkthroughs
No strategies have been submitted.
Related Games
If you liked this game, you might also like: