Genius or Dork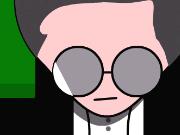 Test your visual, perceptual and other mental skills with a variety of puzzles and challenges, mathematical and otherwise. Are you a genius, or just a dork?
Instructions/Controls:
Use the mouse to make selections and the keyboard to type in answers.
Plays:
2,870
|
Ratings:
3
|
Avg Rating:
5.2
|
Published on
11/5/2010
|
Favorited by 1 player


This game has not earned any honors.
Game Reviews
Rants, Raves and Reviews
No reviews have been submitted.
Game Strategy
Tips, hints, secrets, cheats & walkthroughs
No strategies have been submitted.
Related Games
If you liked this game, you might also like: