GemCraft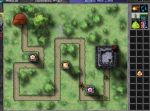 Havoc and corruption swarms through the land, and you are one of those few wizards who can put an end to it. Create and combine magic gems, put them into your towers and banish the monsters back to hell!
Instructions/Controls:
No instructions available.
The size of this game is very large (4.2 mb). Please be patient while it loads!
Plays:
19,438
|
Ratings:
9
|
Avg Rating:
6.4
|
Published on
3/1/2009
|
Favorited by 1 player

Honors for this game (2)
Most Popular (Today): #86
Featured Game: 7/28/2009 00:00:00

Game Reviews
Rants, Raves and Reviews
No reviews have been submitted.
Game Strategy
Tips, hints, secrets, cheats & walkthroughs
No strategies have been submitted.
Related Games
If you liked this game, you might also like: