Diamond Chaser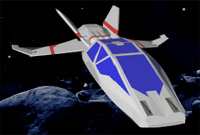 You ae a rogue pilot in the Alpha Sector. You have come into some lucrative information. The asteroids in the outer rings of Cora Flatar contain diamonds. The rings will be unstable without the diamonds, but you do not care. You want them at all costs. Fight and collect the diamonds! Cora's security robots will try to stop you.
Instructions/Controls:
Use your keyboards arrow keys to navigate and the space bar to fire.
Plays:
3,433
|
Ratings:
1
|
Avg Rating:
5.7
|
Published on
7/21/2006


This game has not earned any honors.
Game Reviews
Rants, Raves and Reviews
No reviews have been submitted.
Game Strategy
Tips, hints, secrets, cheats & walkthroughs
No strategies have been submitted.
Related Games
If you liked this game, you might also like: