Desktop Tower Defense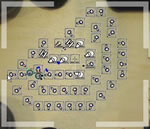 A sophisticated and smoothly polished tower defense game... hard to stop playing! Unlike many other tower defense games, in this one the attackers can use any path to get to the exit. Three difficulty levels and five challenge modes will keep you coming back to play again and again!
Instructions/Controls:
No instructions available.
Plays:
152,039
|
Ratings:
19
|
Avg Rating:
7.4
|
Published on
1/25/2008

Honors for this game (2)
Most Popular (Today): #13
Featured Game: 2/21/2008 00:00:00