Bloons 3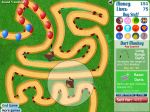 Bloons is back with more tower defense action in this exciting 3rd episode. Includes 8 new levels and many new features, including the monkey beacon, spike-o-pult and pineapple grenade.
Instructions/Controls:
No instructions available.
Plays:
15,618
|
Ratings:
26
|
Avg Rating:
7.8
|
Published on
3/1/2009
|
Favorited by 2 players

Honors for this game (2)
Most Popular (Today): #49
Featured Game: 6/21/2010 00:00:00

Game Reviews
Rants, Raves and Reviews
No reviews have been submitted.
Game Strategy
Tips, hints, secrets, cheats & walkthroughs
No strategies have been submitted.
Related Games
If you liked this game, you might also like: