Billiards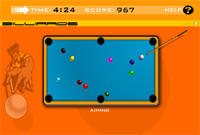 If you like the angles and the action of billiards, then you will like this billiard / pool game as a diversion while at the computer. Only ten balls, but see how well you can do.
Instructions/Controls:
Line up the cue then hold the left button until you hit the cue ball. When you scratch the game is over.
Plays:
4,454
|
Ratings:
2
|
Avg Rating:
7.4
|
Published on
7/21/2006


This game has not earned any honors.
Game Reviews
Rants, Raves and Reviews
No reviews have been submitted.
Game Strategy
Tips, hints, secrets, cheats & walkthroughs
No strategies have been submitted.
Related Games
If you liked this game, you might also like: