Battle Over Berlin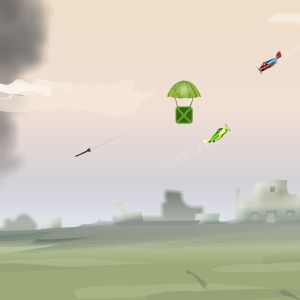 Battle your way in the skies of Berlin for aerial supremacy... How good are you at dogfighting?
The objective of the game is to down as many enemy fighters as you can.. Try to get the powerups by flying low when they are available. Use 2 kinds of weapo
Instructions/Controls:
Throttle Up arrow key
Throttle Down Down arrow key
Pull Up Left arrow key
Pull Down Right arrow key
Fire Gun "<" Key
Fire Bomb ">" Key
Plays:
21,861
|
Ratings:
2
|
Avg Rating:
6.4
|
Published on
5/20/2007


This game has not earned any honors.
Game Reviews
Rants, Raves and Reviews
No reviews have been submitted.
Game Strategy
Tips, hints, secrets, cheats & walkthroughs
No strategies have been submitted.
Related Games
If you liked this game, you might also like: