Drunk Puke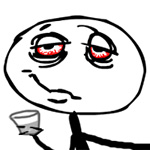 He lost his job, his girlfriend dumped him, and his dog fluffy was killed by the little neighbourhood brats! Things can't get any worse!! So help this poor dude drink his pain away in this hilarious game. The game features various levels of drinking that will ultimately get you pissed drunk!
Instructions/Controls:
No instructions available.
---
Plays:
25,656
|
Notes:
0
|
Ratings:
10
|
Avg Rating:
5.7
This game has not earned any honors.
Added on Sunday, January 18, 2009

Related Games
If you liked this game, you might also like:






Game Reviews
Rants, Raves and Reviews
No reviews have been submitted.
Game Strategy
Tips, hints, secrets, cheats & walkthroughs
No strategies have been submitted.