8Baller Straight Pool

Single player bool (billiards) game. Sink all the red balls into the pockets to win the game. If you sink the cue ball (white), you lose.
Instructions/Controls:
Click on the cue ball and hold the left mouse button while you aim, then release to shoot.
---
Plays:
4,419
|
Notes:
0
|
Ratings:
1
|
Avg Rating:
5.7
Honors for this game (1)
Most Popular (Today): #42
Added on Thursday, October 16, 2008

Related Games
If you liked this game, you might also like: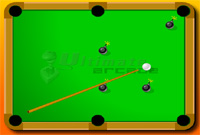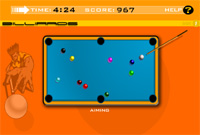 Game Reviews
Rants, Raves and Reviews
No reviews have been submitted.
Game Strategy
Tips, hints, secrets, cheats & walkthroughs
No strategies have been submitted.