1 i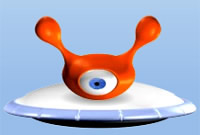 Help 1 i to get the green blobs while avoiding the blue ones.
Instructions/Controls:
Use the keyboards left and right arrow keys to move 1i back and forth. Time your moves with his bouncing so that he bounces over the blue blobs and gets the green ones. Blues make you lose health.
---
Plays:
1,713
|
Notes:
0
|
Ratings:
3
|
Avg Rating:
5.0
This game has not earned any honors.
Added on Friday, July 21, 2006

Related Games
If you liked this game, you might also like:
No related games were found.
Game Reviews
Rants, Raves and Reviews
No reviews have been submitted.
Game Strategy
Tips, hints, secrets, cheats & walkthroughs
No strategies have been submitted.