Ultimate Billiards #2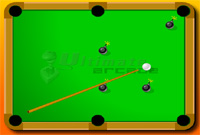 Line up your cue stick and hit the bombs into the pockets before they explode. Over 10 levels of play in this pool / billiards variant.
Instructions/Controls:
Use the mouse to line up your shot. Hold the button down until the power bar is where you want it then release to shoot.
---
Plays:
55,550
|
Notes:
0
|
Ratings:
3
|
Avg Rating:
4.9
This game has not earned any honors.
Added on Saturday, March 15, 2008

Related Games
If you liked this game, you might also like:








Game Reviews
Rants, Raves and Reviews
No reviews have been submitted.
Game Strategy
Tips, hints, secrets, cheats & walkthroughs
No strategies have been submitted.