Tower of Hanoi

This game is very interesting and makes your brain work hard! The objective is simple. There are 3 stems. On one of them are piled several disks in ascending size order. You have to move the disks in such a way that the pile will be rebuilt identically on one of the 2 other stems, knowing that you shall not move more than one disk at a time, and that the upper disk shall be smaller than the one below it.
Instructions/Controls:
Click on a number to set the height of the pile. Drag the disks to move the pile to another location.
---
Plays:
4,638
|
Notes:
0
|
Ratings:
3
|
Avg Rating:
4.5
Honors for this game (1)
Most Popular (Today): #1
Added on Wednesday, August 9, 2006

Related Games
If you liked this game, you might also like: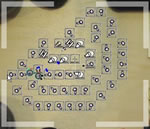 Game Reviews
Rants, Raves and Reviews
No reviews have been submitted.
Game Strategy
Tips, hints, secrets, cheats & walkthroughs
No strategies have been submitted.