Fruit Drop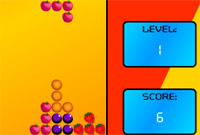 Fruit drop is a fruity twist on the tetris game. If you like tetris you will enjoy this and who knows, you may enjoy it if you life fruit.
Instructions/Controls:
Use the up arrow key to rotate the piece, the left and right arrow keys to move it from side to side, and the down arrow key to drop it faster.
---
Plays:
2,686
|
Notes:
0
|
Ratings:
2
|
Avg Rating:
6.0
This game has not earned any honors.
Added on Tuesday, July 15, 2008

Related Games
If you liked this game, you might also like:








Game Reviews
Rants, Raves and Reviews
No reviews have been submitted.
Game Strategy
Tips, hints, secrets, cheats & walkthroughs
No strategies have been submitted.