Bear Drop

Move the colored bears over their respected color position on ship to save them.
Instructions/Controls:
No instructions available.
---
Plays:
4,444
|
Notes:
0
|
Ratings:
2
|
Avg Rating:
8.2
This game has not earned any honors.
Added on Wednesday, August 9, 2006

Related Games
If you liked this game, you might also like: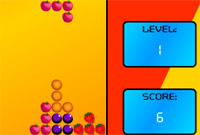 Game Reviews
Rants, Raves and Reviews
No reviews have been submitted.
Game Strategy
Tips, hints, secrets, cheats & walkthroughs
No strategies have been submitted.