3D Field Goal

Practice kicking field goals in a variety of football playmodes, from target practice to Points mode to Distance mode. Or try hitting the uprights in Hit the Uprights mode.
Instructions/Controls:
No instructions available.
---
The size of this game is large (2.6 mb). Please be patient while it loads!
Plays:
14,420
|
Notes:
0
|
Ratings:
5
|
Avg Rating:
5.7
This game has not earned any honors.
Added on Thursday, October 4, 2007

Related Games
If you liked this game, you might also like: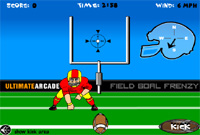 Game Reviews
Rants, Raves and Reviews
No reviews have been submitted.
Game Strategy
Tips, hints, secrets, cheats & walkthroughs
No strategies have been submitted.